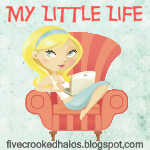 1. What is your favorite "eat" on Thanksgiving? Everything! I love to eat Thanksgiving food especially all the wonderful side dishes. Oh yeah, and the desserts are fabulous!
2. What is the name your best girl friend and the best trait about her or how you met (or heck, both!!) My sister Jamie and I met when we were going into the 8th grade and hated each other from the first minute. We were so different from each other and had lived different lives up to that point. Now she is my best friend on so many levels.
3. What would you say is one of your "weirdest" quirks? I'm not sure OCD is a quirk.?.
4. What is your favorite genre of music? (Hip hop? Classical? Rock? etc.) Definitely depends on my mood but most often I listen to country, christian and hip hop / pop.
5. Are you a Night Owl...or an Early Bird? I'm really not one more than the other. If I have things to do I will get up bright and early with the sunshine but if we have night plans I can stay out and party with the best of them. Most nights though I am in bed by 10:00.
This Blog Hop Brought to you by Mama M. Head on over and link yourself up and if you don't have a blog just answer the questions in the comments.