Happy Black Friday!
It's
Mama M
's 5 Question Friday, the blog carnival that poses quirky, fun questions so we can get to know each other better!!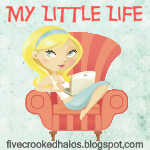 Questions for November 27
th
: (Thanks to Adrienne and Tyler for their question suggestions!!)
1. Do you do a real or fake Christmas tree? For the last several years I have sadly displayed a fake tree because it was easier for me. This year we are going out together as a family and getting a real one!! No more fake evergreen smell for this house--I can smell it already.
2. What is your favorite Christmas tradition with your family? I love the togetherness of Holidays. My favorite Christmas tradition has to be Christmas Eve
story time
.
3. Do you celebrate Thanksgiving in your neck of the woods? Oh yes, it is my favorite holiday--the only one that hasn't been commercialized. There isn't anything better than getting together with everyone you love-friends and family-and enjoying each other's company.
And, if so...how many calories do you think you consumed yesterday? I'm not sure but I know that football game shaved off some of them!
4. Have you started decorating for Christmas, yet? Started on Wednesday.
5. What is your favorite Christmas cookie? I'm more of a pie person.
I'm off to eat leftovers....